About Breast Implant Removal
Breast Augmentation surgery continues to remain one of the most desirable cosmetic surgical procedures performed in the U.S. today. As popular and successful as Breast Augmentation procedures are, some will decide they no longer wish to have breast implants, electing to have them removed. It is important to find an experienced breast implant removal surgeon to ensure a safe and an aesthetically pleasing outcome. Reno Nevada, Board-Certified Plastic Surgeon, Dr. Charles P. Virden performs breast implant removal procedures, offering state-of-the-art techniques such as skin tightening, breast lift, and/or adding natural volume via fat transfer. His objective is to optimize overall health of the patient while preserving a visually appealing outcome. If you are contemplating having your breast implants removed, we invite you to call the office of Dr. Charles P. Virden at 775-348-9798 to schedule a consult and discuss your personalized options.
On the day of your consultation, please set aside approximately one and a half hours to meet with Dr. Virden for a one on one personalized evaluation. You will be encouraged to discuss all of your concerns and goals. Next, you will have the option to meet with our Patient Care Coordinator to review your customized treatment plan and quote. We aim to provide all the information and support you need in order to move forward and achieve your results.
Reviews
"I came in from out of state to have my procedures done with Dr. Virden. He is extremely personable, knowledgeable and confident in what he does. On the day of my pre-op, as I was flying into Reno, my flights were diverted and delayed and I didn't get in until late. Dr, Virden went above and beyond to meet with me outside of normal office hours to make sure I was ready and confident for surgery the next morning. He is caring and attentive and checked in on me over the weekend after the surgery. I'm extremely happy with my results. My breasts look amazing and my tummy flat! I have had minimal pain after surgery and I attribute that to having an extremely skilled surgeon. I highly recommend Dr. Virden!"
- Google User /
Google /
Nov 22, 2016
"CHANGED MY LIFE!I whole heartily recommend Dr. Charles Virden for a procedure. I had two consults a couple of years apart for an abdominoplasty. He sat with me and asked, "what has changed"? This led to a wonderful, caring discussion on what had changed in the two years since my first consult. (loss of almost 100lbs) Dr. Virden became as excited or more excited as I was to the prospects of how this procedure would change my life. He was so caring and enthusiastic to do the procedure. As I lay in recovery, he threw back the curtain and said (with the largest smile I have ever seen), "Hello skinny, I'll see you tomorrow." I can only say, I wish I had done it sooner…it has Changed My life! Thank you, Thank you. Patty"
- P.B. /
Google /
Oct 02, 2019
"Prior to having Dr Virden correct 2 botched surgeries I had given up on all hope of looking normal. The plastic surgeon that did my previous surgeries had me on a pump for a year then made me pay full price for a revision that was worse. Dr. Virden never had a doubt he could fix it and that gave me hope. I can honestly say I had given up on anyone fixing it, but he did! I am 3 weeks out from surgery and I feel like I did in my 20's! Seriously this isn't an exaggeration. I would refer my friends and family to Dr. Virden and his staff. His positive attitude and professional but kind bedside manner is comforting. I honestly can't say enough about my experience and how happy I am. If you're thinking about changing something please talk to him first. After all I have been through I can honestly say he comes through and has an eye for detail. Thank you Dr. Virden and staff for giving me a new outlook on myself."
- Anonymous /
RateMDs /
Sep 12, 2019
"I've been going to see Leah S. for a few years now for a variety of things and she's the absolute best! I live in NYC and always make it point to book an appointment whenever I go back to visit family in Tahoe. She's incredibly knowledgeable, makes you feel comfortable and all her work is amazing. I would highly recommend Leah and even got a few friends and family members to start seeing her!"
- K.O. /
Google /
Aug 27, 2019
"I saw Aleah Hartung the P.A. In Dr Virdens office for a skin tag removal. I didn't have to wait months to get in to see her as if I had to see a dermatologist in any other office. I got in, in less than a week. Her technique was amazing, I didn't feel a thing. I was very impressed. I highly recommend anyone who needs their skin looked at for any suspicious lesions, moles or any skin concerns."
- N.T. /
Google /
Aug 07, 2019
Previous
Next
Breast implant removal surgery may be performed for a number of reasons. Some women have had their implants for many years and choose to have them removed or replaced, while others no longer desire to have implants at all. One of the most common reasons one may decide to remove or replace their breast implants is due to their bodies' response to the implant or capsule formation.
A capsule is a natural membrane formed by your immune system in response to the placement of an implant. Every patient forms a capsule post operatively as part of the recovery process.
However, some (estimated 4-16%) may experience what is called a capsular contracture, which is a thickening of the scar tissue that may result in discomfort and/or dissatisfaction with the appearance of the breast.
In this case, and some others, an En Bloc technique is available. Extremely experienced Plastic Surgeons are turning to the En Bloc method, as complications are minimized and this approach ensures the removed tissue and implant remains intact. With this method, Dr. Virden is able to excise the implant and completely clean and treat the area ensuring all scar tissue is removed safely.
En Bloc Capsulectomy Explained
An En Bloc capsulectomy is a technique where the breast implant and the surrounding fibrous capsule is removed in its entirety. More and more experienced Plastic Surgeons are turning to this method of implant removal as it preserves the health of the remaining breast tissue, which minimizes complications, promoting overall health and well-being.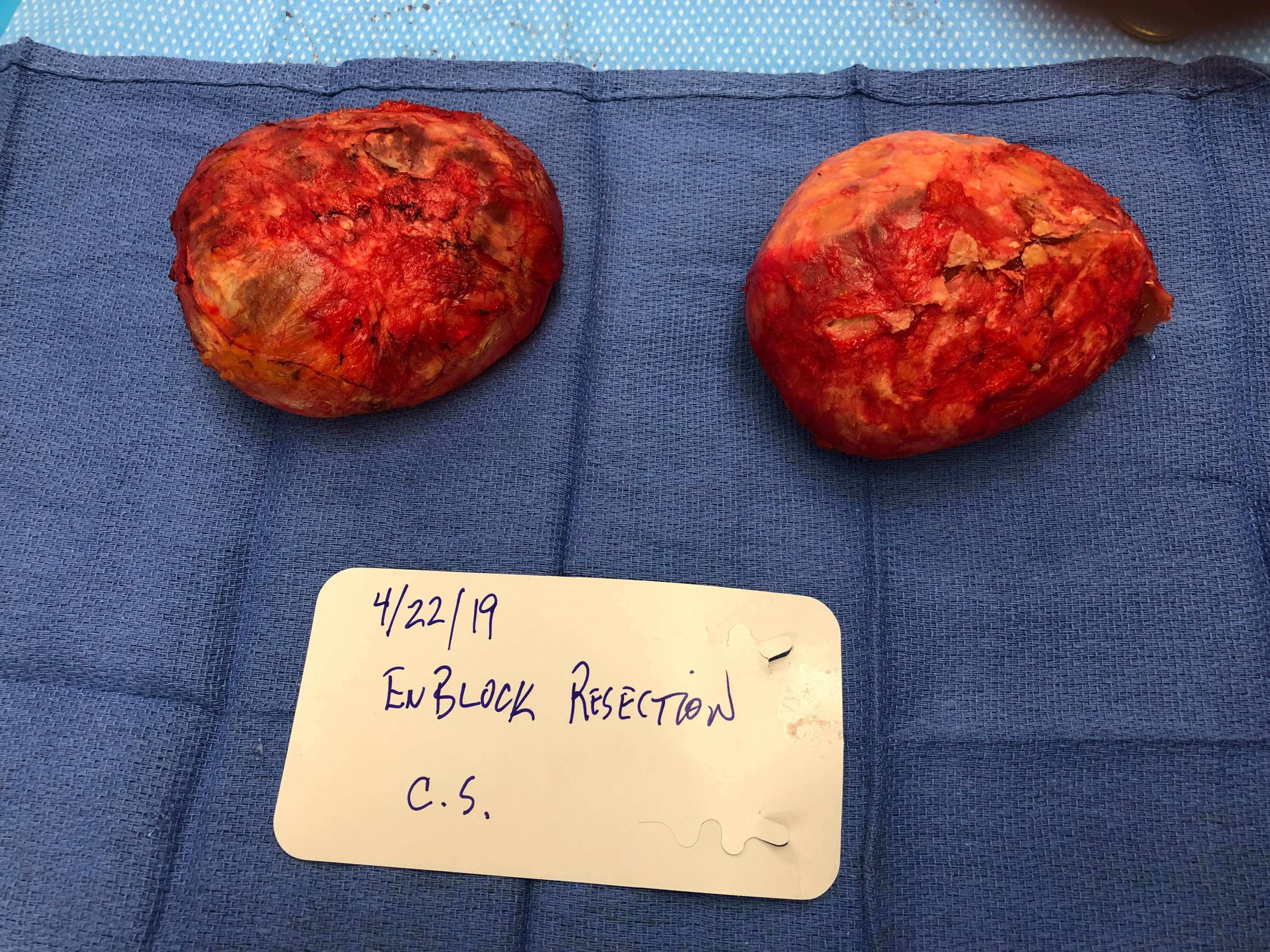 Breast implant removal/En Bloc removal is a same day outpatient procedure. This means you will not be admitted into the hospital and will go home within a few hours of your procedure. Dr. Virden will assess you in his office the day immediately following your breast implant removal. Effective pain control will be discussed during your pre-operative appointment and managed by Dr. Virden following your procedure. The recovery period after breast implant removal will vary for every patient; however, most report a temporary feeling of tightness in the breast area. Optimal results can be observed approximately 3 weeks post-operatively and full results in 4 – 6 months.
Related Procedures