About Breast Implant Removal
Breast Augmentation surgery continues to remain one of the most desirable cosmetic surgical procedures performed in the U.S. today. As popular and successful as Breast Augmentation procedures are, some will decide they no longer wish to have breast implants, electing to have them removed. It is important to find an experienced breast implant removal surgeon to ensure a safe and an aesthetically pleasing outcome. Reno Nevada, Board-Certified Plastic Surgeon, Dr. Charles P. Virden performs breast implant removal procedures, offering state-of-the-art techniques such as skin tightening, breast lift, and/or adding natural volume via fat transfer. His objective is to optimize overall health of the patient while preserving a visually appealing outcome. If you are contemplating having your breast implants removed, we invite you to call the office of Dr. Charles P. Virden at 775-348-9798 to schedule a consult and discuss your personalized options.
On the day of your consultation, please set aside approximately one and a half hours to meet with Dr. Virden for a one on one personalized evaluation. You will be encouraged to discuss all of your concerns and goals. Next, you will have the option to meet with our Patient Care Coordinator to review your customized treatment plan and quote. We aim to provide all the information and support you need in order to move forward and achieve your results.
Reviews
"In October of 2018 I had a neck lift and brow lift with Dr. Virden. I am now 71 years old. I look fabulous, maybe 50! He & his staff & surgery center staff are all knowledgeable, considerate and caring. Dr. Virden also gave me a breast augmentation. My breasts are large and look natural."
- M. /
Healthgrades /
Jun 05, 2020
"I came in from out of state to have my procedures done with Dr. Virden. He is extremely personable, knowledgeable and confident in what he does. On the day of my pre-op, as I was flying into Reno, my flights were diverted and delayed and I didn't get in until late. Dr, Virden went above and beyond to meet with me outside of normal office hours to make sure I was ready and confident for surgery the next morning. He is caring and attentive and checked in on me over the weekend after the surgery. I'm extremely happy with my results. My breasts look amazing and my tummy flat! I have had minimal pain after surgery and I attribute that to having an extremely skilled surgeon. I highly recommend Dr. Virden!"
- Google User /
Google /
Nov 22, 2016
"Dr.Virden is awesome! Caring and knowledgeable."
- K.G. /
Google /
Mar 06, 2020
"What a great experience with incredible results! I come from the Bay Area to get laser treatment done here. The office staff is amazing and very attentive. Leah Salazar is professional, extremely knowledgable and makes you feel very comfortable. What I really appreciated about her is she takes the time to answer any questions you may have and doesn't make you feel rushed. I really appreciated how she went over the after care directions and explained what to expect over the next few days. I 100% recommend Leah Salazar and will definitely continue going to this office. Almost forgot, make sure you try the relaxation room with the massage chairs!"
- B.C. /
Google /
Mar 05, 2020
"All of the staff and services at Dr. Virden's office are amazing. Very professional, caring, personal and no pressure. They are very invested in making each persons experience unique to their expectations! The results are amazing and the consultations are not pressured into booking. I love this place!!"
- L.M. /
Facebook /
Mar 04, 2020
Previous
Next
Breast implant removal surgery may be performed for a number of reasons. Some women have had their implants for many years and choose to have them removed or replaced, while others no longer desire to have implants at all. One of the most common reasons one may decide to remove or replace their breast implants is due to their bodies' response to the implant or capsule formation.
A capsule is a natural membrane formed by your immune system in response to the placement of an implant. Every patient forms a capsule post operatively as part of the recovery process.
However, some (estimated 4-16%) may experience what is called a capsular contracture, which is a thickening of the scar tissue that may result in discomfort and/or dissatisfaction with the appearance of the breast.
In this case, and some others, an En Bloc technique is available. Extremely experienced Plastic Surgeons are turning to the En Bloc method, as complications are minimized and this approach ensures the removed tissue and implant remains intact. With this method, Dr. Virden is able to excise the implant and completely clean and treat the area ensuring all scar tissue is removed safely.
Breast Implant Removal/En Bloc Surgical Technique
En Bloc Capsulectomy Explained
An En Bloc capsulectomy is a technique where the breast implant and the surrounding fibrous capsule is removed in its entirety. More and more experienced Plastic Surgeons are turning to this method of implant removal as it preserves the health of the remaining breast tissue, which minimizes complications, promoting overall health and well-being.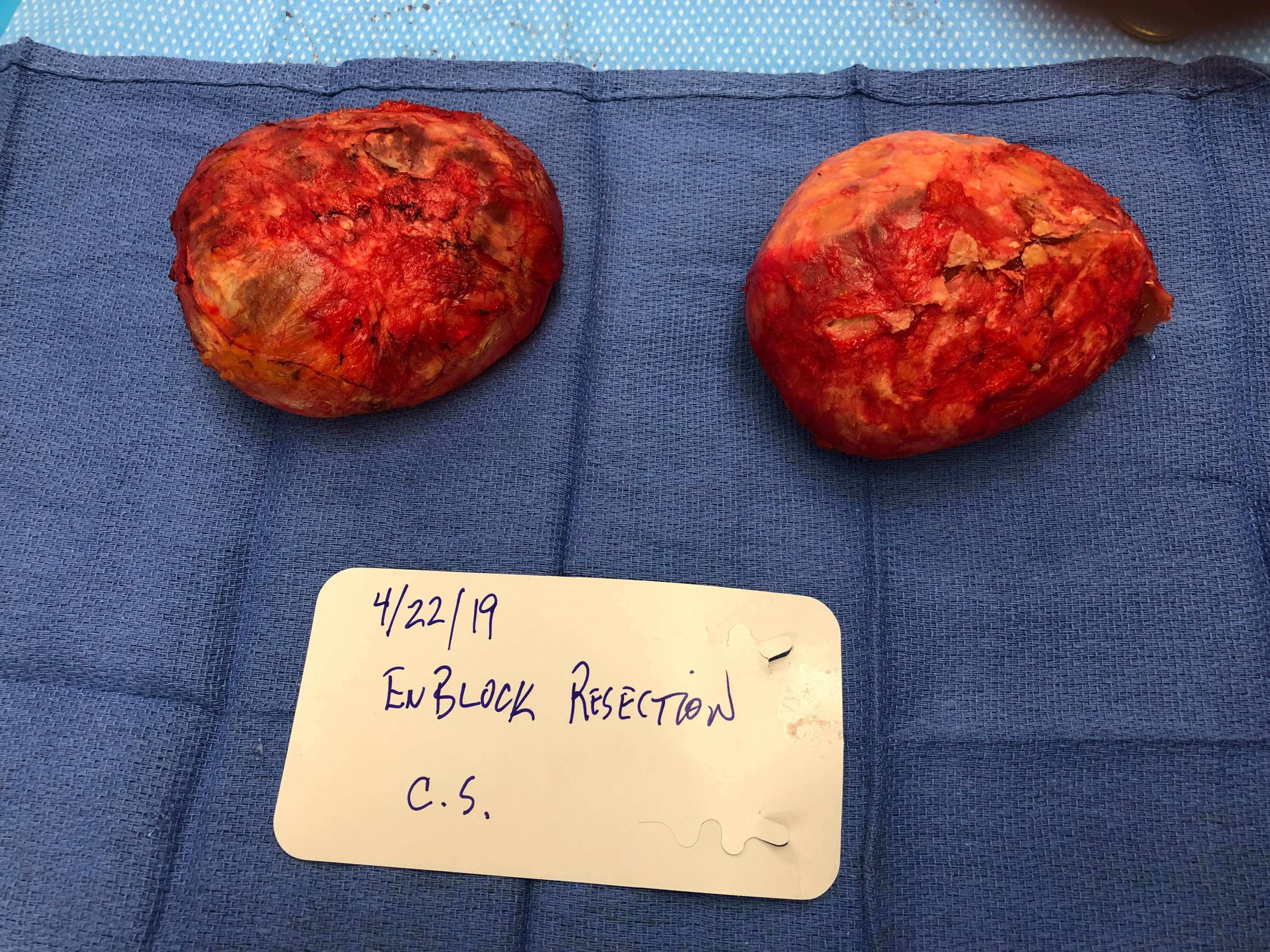 What to Expect with Breast Implant Removal/En Bloc
Breast implant removal/En Bloc removal is a same day outpatient procedure. This means you will not be admitted into the hospital and will go home within a few hours of your procedure. Dr. Virden will assess you in his office the day immediately following your breast implant removal. Effective pain control will be discussed during your pre-operative appointment and managed by Dr. Virden following your procedure. The recovery period after breast implant removal will vary for every patient; however, most report a temporary feeling of tightness in the breast area. Optimal results can be observed approximately 3 weeks post-operatively and full results in 4 – 6 months.
Related Procedures